If you are looking for a name for a big female dog, some great names can be those linked to strong and brave historical women such as Cleo (for Cleopatra), Lola (for Lola Flores), Evita (for Eva Perón), Curie (for the scientist Marie Curie), Frida (for the painter Frida Kalho), Campo (for Clara Campoamor) or Serena (for the tennis player Serena Williams).
If you're into superheroines, good names can be Wonder (for Wonder Woman), Cat (for Cat Woman) or Raven.
Thelma
Zakky
Bella
Jazz
Amber
Ava
Cinnamon
Toby
Gaston
Melva

Gagarin
Cooper
Alan
Simba
Woody
Dexter
Gilda
Farter
Ivar
Captain
Zoubia
Gaul
Staffy
Ozzy
Chocolate
Chewbacca
Amy Farrah Fowler
Adonis
Gizmo
Boss
Katy
Yuki
Elory
Mushu
Draco
Bimba
Bunner
Candace
Akira
Bosch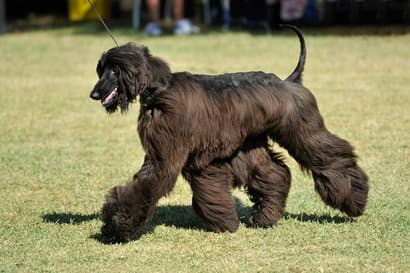 The best names for big dogs
It's considered that a dog is going to be big as an adult when it'll exceed 18 or 20 kilograms in weight. And it's a characteristic to bear in mind when choosing a suitable name for him or her, given that the name is his or her "letter of introduction" to others and says a lot about our dog.
There are lots of large dog breeds, surely some unknown to you because they are harder to see on the street. The most popular are Golden Retriever, Pit-Bull, Husky, Rottweiler, German Shepherd, etc. but then there are really incredible breeds although we rarely see them in person. This is the case of the Afghan Hound, a giant with a wonderful character, or the Great Dane, a giant dog that can reach 90 kilos (impressive).
To make it easier for you to find the right name for a big dog, we have compiled below the names preferred by our visitors:
Yuki
Eclipse
Malu
Abba
Africa
Aisha
Alan
Amber
Amy Farrah Fowler
Lambo
Pepper
Arya
Ariel
Asia
Asha
Audrey
Ayla
Aphrodite
Andromeda
Artemis
Ava
Bamba
Bella
Betty
Bimba
Blair
Blossom
Boira
Bonnie
Bora Bora
Brigid
Brita
Breeze
Bubba
Buffy
Cairenn
Cala
Calliope
Camilla
Candle
Cinnamon
Cersei
Ciara
Cleopatra
Calypso
Danaë
Dicky
Daenerys
Dagger
Dakota
Dana
Dolly