Male dog names
If you've just adopted a male dog, or you're thinking of bringing one into the family, you're probably wondering what to name it. There are so many names, that's why it's so hard to choose. First of all, here is a list of the 50 most popular male dog names:
Ripjaw
Yeti
Herby
Nock
TV
Beans
Bamboo
Swag
Rexie
Olaf

Paris
Bogey
Pixie
Botin
Cuddles
Storm
Jewlz
Tobler
Albie
Sparkman
Softy
Moti
Sandesh
zishan
Boozo
Saucy
Diego
Crispy
Buddie
Kalu
Johan
Heaven
Budderball
Harami
Kutta
Volibear
Garlic
Socks
Sammie
Seru
Naughty
Tikku
Saroo
Raja
Marley
Thor
Bruzzi
Gizmo
Mogwai
Bonto
Moy
Puggu
Sheru
Otto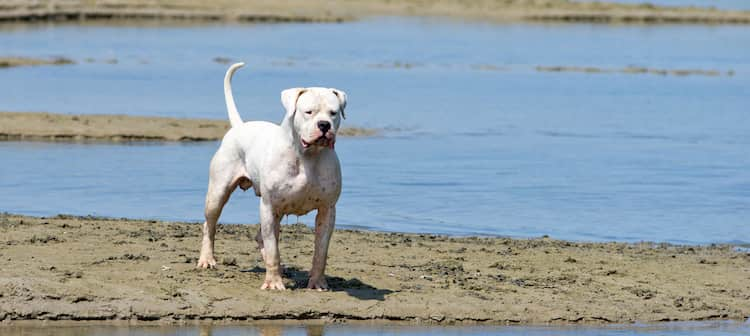 Some tips to name your male dog
One of the most important tips we can give you for choosing a male dog name is to spend some time thinking about your hobbies. What do you like to do? What are your idols? Who were your favorite cartoon characters when you were a kid? Who do your kids or the rest of your family admire?
After doing this, you may already know more clearly what names for male dogs you could choose for the new family member.
Another trick to choosing a name for a dog is to get together with the whole family and say each one of the adjectives or names that the new member inspires. Male dog names like " Sleepy", "Clever", "Ball", "Marcus" or "Roger" can come up. Imagination is infinite and, therefore, so are the options that the different members of the family will be able to propose.
Write down all the names that show up, you can also look for others in our search engine, selecting the characteristics you want in the names that appear in the results.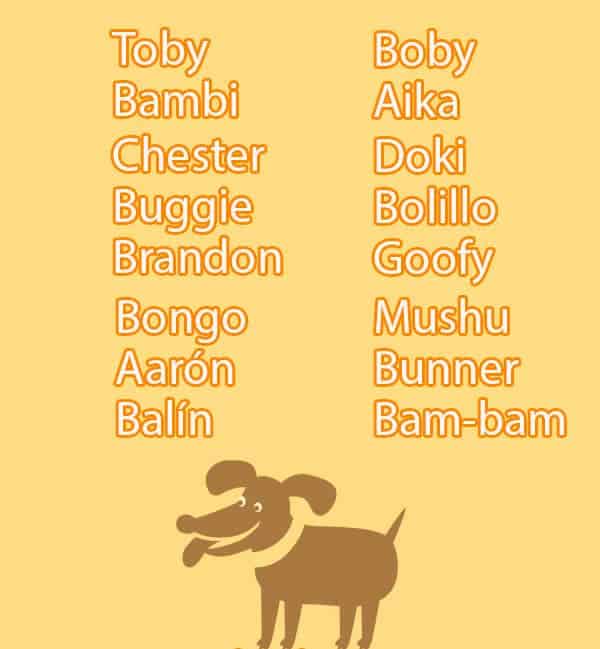 What else can I do to choose a male dog name?
Once you have all the names in a list, you can start discarding the ones you like least, the ones you think are too daring or the ones you think are too long. Thus, you will reduce your list of names until you reach some that you can cast a vote on.
Once you have 5 or 6 names on your list it will be time to start voting. Something very funny that you can do is that each person who has proposed one of these names makes a plea defending why they think that you should give that name to your new pet.
After the pleadings, it's time for everyone to vote. When we talk about family we don't just mean father and children, you can also meet with your friends or whoever you want to, to help you decide the name you want to give your dog.
The important thing is that your new male dog has the perfect name and he can begin to identify himself with it as soon as possible.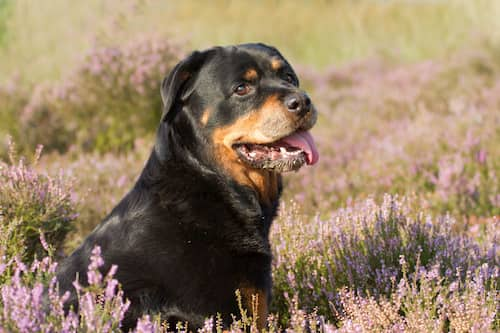 150+ Best male dog names
Is your dog the best? Then maybe you're interested in finding a name that represents it . To do this we have selected the best male dog names in this list:
Eclipse
Alan
Lambo
Binky
Bubba
Rattle
Spark
Corin
Dicky
Elia
Abel
Stone
Adam
Adonis
Angus
Akira
Akron
Alf
Alfalfa
Hannibal

Anubis
Aidan
Apollo
Achilles
Archi
Ares
Aris
Arthur
Aston
Astro
Attila
Atum
Axel
Azor
Babas
Pellet
Baloo
Balto
Bamm-Bamm
Bagheera
Bambino
Beethoven
Benji
Blaise
Bingo
Boby
Bond
Bongo
Borya
Bosch
Boss
Brandon
Bruce
Bruno
Wurst
Sosis
Brutus
Buck
Buddha
Byron
Calel
Knut
Captain
Capone
Caprice
Carlton
Casper
Shaman
Chester
Chewbacca
Chucky
Ciaran
Clint
Cobi
Colin
Columbo
Conan
Conor
Cooper
Copernicus
Snow flake
Cosmos
Craster
SpongeBob
Cusco
Castor
Cronus
Dakar
Dalí
Dalton
Dandy
Darko
Daryl
Date
Da vinci
Davor
Denis
Denver
Declán
Dexter
Django
Donald
Dooham
Dover
Draco
Dumbo
Duncan
Duke
Dagda
Dante
David
Dragan
Daedalus
Eddard
Egon
Elmer
Elvis
Emmet
Eric
Heinz
Ernie
Aeneas
Aeolus
Eros
Faun
Nutella
Fito
Flanders
Fringe
Flik
Figo
Fígaro
Balzac
Pappy
Gaby
Frodo
Gor
Goran
Gaston
Genie
Geppetto
Rogue
Groucho
Guido
Garrett
Caspar
Gaudí
Gino
Greedy
Godøy