+320 Australian shepherd names
Do you have an Australian Shepherd puppy at home and don't know what name would be great? Don't worry, we'll help you find the perfect name. We have collected many original names for female and male dogs. We'll also tell you a little about this magnificent breed, its characteristics and main qualities. Let's get started:
Tintin
Doggy
Wolf
Sailor
Sosis
Strap
Mama bear
Wurst
Gino
Rocket
Disco
Sprite
Wiggles
Kita
Thaitea
Dribble
Rufous
Moose
Trunk
Little man
Punk
Splash
Kimmy
Laa-laa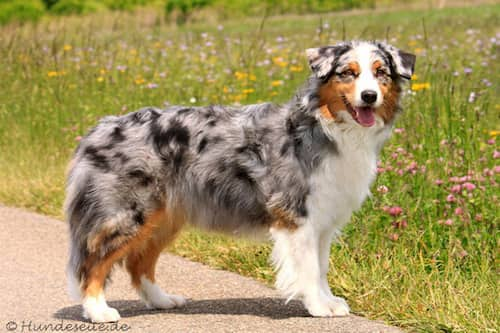 Names for Male Australian Shepherds
In this breed males stand out for being a little larger than females (occurs in most of large dogs breeds). They can reach 31 kilograms in weight and about 50-60 centimeters in height. It's a dog with good physique, proportionate, and with an incredible learning capacity. If you have a male puppy, let's see what names can be a good choice:
Apolo
Nadal
Piper
Willow
Bentley
Bravo
Buddy
Oliver
Emery
Santana
Duky
Jake
Wilson
Coco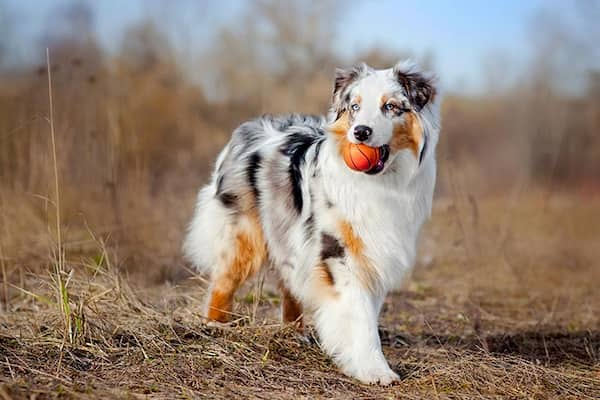 Names for Female Australian Shepherd
This race coat color can be: black, white, fire-orange, usually tri-colored. They have a soft hair and is not difficult to maintain. One of the greatest virtues of the Australian Shepherd is its good character, they love to play and do activities with the family. They like to adapt to other dogs, they are sociable.
Females usually weigh around 24 kilograms, and reach 50 to 55 centimeters in height. For them we have gathered the following list of names:
Stella
Daisy
Kira
Milka
Gala
Maya
Liz
Violeta
Blondie
Sabrina
Zoe
Kiara
Coral
Reina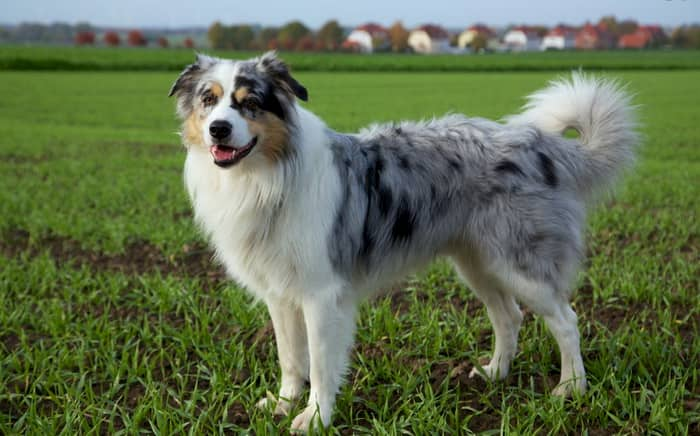 Names for Australian Shepherd according to their characteristics
It's a breed that comes from the crossing of Spanish shepherds and Basque shepherds. In its origins it was used as working and shepherding dogs. They are ideal for families with children and active people.

Because they need daily exercise, it's recommended that their owners are willing to exercise and walk with them, as a sedentary lifestyle takes its toll on their character, they are active dogs.

As far as their care is concerned, it's not a delicate breed, it simply needs the maintenance of any other dog. They don't suffer obesity either, they are not too gluttonous.

Below you can see a complete list of the most popular names for Australian Shepherds:
Jazz
Cinnamon
Monty
Woody
Dexter
Farter
Captain
Chewbacca
Cat
Pixy
Skits
Elory
Chocolate
Autumn
Mushu
Amy Farrah Fowler
Boxy
Bunner
Hoshi
Swag
Candace
Goofy
Doughnut
Beans
Kiara
Candy
Mickey
Bamm-Bamm
Xeona
Cookie
Tarzan
Pippin
Whoopi
Buffy
Budderball
Pappy
Barney
Luigi
Yoyo
Meeko
Kala
Brandy
Medusa
Jerry
Copernicus
Socks
Bagheera
Pixie
Boozo
Merlin
Banzai
Lambo
Broadway
Zapper
Joey
Bogey
Hazelnut
Bozo
Freckles
Dizzy
Shenzi
Date
Buddy
Whisky
Beaver
Peanut
Nugget
Bolt
Abba
Smurf
Bunky
TV
Bubbles
Chu Chu
Peggy
Elmer
Mommy
Laika
Doodle
Keiko
SpongeBob
Fuzz
Icarus
Babas
Bruiser
Frodo
Akela
Kemosabe
Buggie
Homer
Toto
Hodor
Heidi
Bear
Elmo
Bamba
Hutch
Biscuit
Curly
Mash
Bert
Ernie
Kokoro
Barbie
Butterscotch
Alfalfa
Dumbo
Brutus
Pool
Gremlin
Mambo
Lizzy
Sparky
Bally
Patchy
Chalky
Saucy
Muncher
Noddy
Atomic
Hulk
Baloo
Moti
Garlic
Maggie
Kenny
Cupcake
Cuddles
Flanders
Bandit
Pepper
Mafia
Krusty
Pepsi
Cheese
Sheldon
Widget
Guinda
Yeti
Scruffy
Foxy
Truffle
Kayser
Snickers
Greedy
Rocky
Crazy
Bubba
Ant
Dolly
Oreo
Mr. Bean
Brisket
Murdock
Oni
Rogue
Fluffy
Marco
Camel
Jack-o'-lantern
Geppetto
Pipe