Dachshund dog names
Looking for a good name for your dachshund dog? You have come to the right place, on this page we'll talk a little about the curiosities of this magnificent breed and show you the list of names for males and females, sure you will find what you're looking for.
The first advice we give you to find the right name, is that it's short and easy to pronounce. Complex and too long names can delay learning and make it difficult to train them in the puppy stage.
That said, thinking about the topics or things we like also will help us find a name. That is, if we love the Japanese Anime series, how about looking for a Japanese name? Or if we like the TV series "The Walking Dead" we could choose the name of one of its characters.
Names for female Dachshund dogs
If you have a female dachshund in the first place you should think what kind of name you are looking for for her. A nice and sweet name? Or better an original and more daring name? To help you in this difficult task we present a list of names for females of all types:
Lili
Hilda
Ursula
Bimba
Heidi
Frida
Lady
Zulita
Lina
Mi-mi
Greta
Ada
Britta
Elsa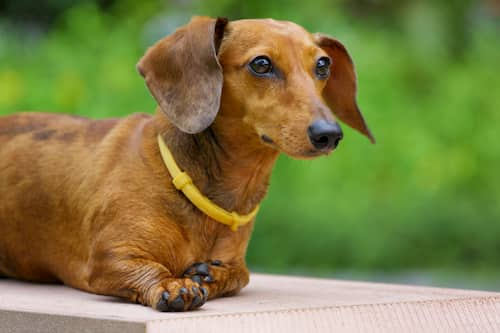 Names for male Dachshund dog
Lillo
Pumba
Arlin
Asier
Gerard
Rufo
Bruno
Goku
Hot-Dog
Lobo
Max
Rocco
Felix
Frank
The best names for sausage dogs
Many people like to choose a popular sausage dog puppy name, which is known and usually people like a lot. They prefer to go for sure, rather than look for more extravagant and little-known names. For them we have gathered in the following list the names for teckel or sausage dog that have received the best votes and ratings on our website in recent years. There are both female and male names, so all you have to do now is look at all the names and choose the one you like the best:
Kopuk
Pani
Minos
Smokie
Panda
Rattle
Anni
Nico
Sophia
Kimball
Tintin
Pinky
Doggy
Atum
Wolf
Hades
Keisy
Susi
Slash
Róisín
Caliph
Sage
Kumo
Yuri
Pearl
Declán
Sally
Niobe
Mateo
Nymph
Dulce
Donald
Sailor
Jay
Mellis
Lexi
Bonnie
Daedalus
Sadie
Dusha
Dûsa
Leo
Robin
Knut
Moussa
Sosis
Suyay
Cloe
Lovely
Luck
Nunu
Xifu
Elvis
Trosky
Romi
Sam
Inka
Wurst
Coco
Gino
Tango
Rose
Tara
Kevin
Nutella
Snow flake
Meg
Oriya
Henko
Moon
Valentina
Loue
Tommy
Tinker Bell
Kalina
Karim
Snuggles
Nock
Bruno
Milo
Leto
Sprite
Mandi
Sami
Niall
Scout
Ímar
Cruise
Dandy
Clip
Vania
Tia
Wilma
Clare
Ixel
Coffee
Miley
Versace
Jimmy
Chelsea
Frigg
Rosie
London
Kovu
Malik
Thais
Bently
Cusco
Sansa
Nut
Randy
Rufous
Sail
Bambino
Noa
Chanel
Joli
Margo
Dylan
Beth
Dama
Krauss
Percy
Iris
Trunk
Bingo
Adel
Dora
Duchess
Tuffy
Kelly
Kira
Zaira
Keila
Splash
Vera
Suri
Linky
Corin
Janin
Saoirse
Figgis
Patty
Dalton
Tessa
Shery
Shagun
Fringe
Osiris
Caprice
Betty
Winnie
Akron
Irina
Giulia
Smurfette
Sheba
Spikey
Mia
Heinz
Eileen
Zoey
Binky
Greta
Moy
Godøy
Pipe
Julie
Quill
Zola
Indira
Geppetto
Puppy
Otto
Marco
Kyra
Minnie
Nike
Breeze
Fluffy
Polo
Ripjaw
Dana
Rogue
Kid
Allis
Snowy
Elia
Ami
Guido
Keira
Oni
Perry
Nanuk
Shahbanu
Neiva
Cyristle
Pellet
Summer
Inuk