Maltese dog names
If there's a new Maltese puppy at home, you're sure to be looking for a name. First of all we advise you to gather the whole family to make this decision, as it's important that everyone likes the chosen name. From the beginning it's essential that you all call your puppy in the same way, so that he/she learns his/her name quickly and easily.
Thelma
Boby
Jazz
Cobi
Cinnamon
Gaston
Toby
Bunny
Cooper
Becky
Monty
Zula
Simba
Alan
Staffy
Cat
Boss
Adonis
Bimba
Mushu
Draco
Katy
Bullet
Joker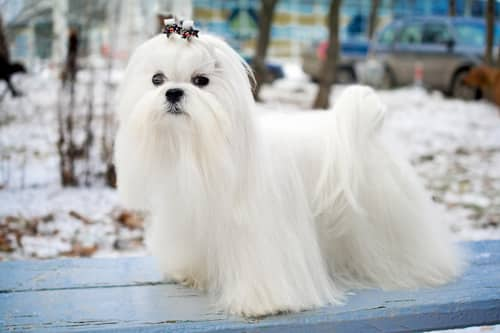 Male Maltese dogs names
Maltese males are not only beautiful, but also charming. They have a very good character, they love children and play with other animals, which facilitates their adaptation to houses where there are cats or other dogs. They are little barking, unlike other small breeds such as the Yorkshire Terrier or the Chihuahua. Here are 15 names for male Maltese dogs:
Baby
Nenuco
Bebito
Torito
Googi
Coco
Bisbi
Adonis
Romeo
Toby
Lucio
Thomas
Copito
Picolo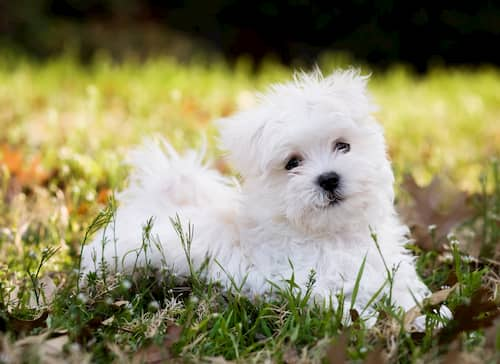 Female Maltese dogs names
If you are lucky enough to have a female Maltese dog at home, you need to find a nice name for her. They are sweet, quiet tempered dogs. This character has made the Maltese one of the favourite breeds for families with children, and for people who live in flats or apartments.
To find the ideal name, you can draw inspiration from your puppy's characteristics: hair colour, size, character, whether she is more or less active etc. Here are some ideas for females:
Ada
Penelope
Susan
Penny
Yuki
Baby
Miley
Nieve
Bolita
Becky
Olivia
Princess
Fiona
Lali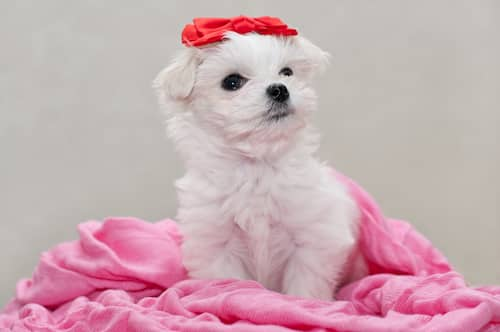 Maltese dog names according to their characteristics
It's a small breed originating in Malta, hence its name. It belongs to the family of the "bichones" (bichón frisé, Havana bichón, etc.) An adult weighs between 2 and 4 kilograms, and they reach 20-30 centimeters of height.
The Maltese bichon dog is a small dog whose main characteristic is the long mantle of white and silky hair that covers their body. In addition to their obvious beauty, they stand out for their friendly, calm and affectionate character, which makes them the perfect pet for children and families.

Characteristics:The coat must be totally white and its black truffle, totally pigmented. It's difficult to keep the hair totally long so many owners choose to keep them with short hair. It's a hypoallergenic dog

Temperament: Despite their small size, Maltese are brave and confident dogs. They are not excessively territorial and adapt well to other dogs and cats.
Below you can see a complete list with the most popular names for Maltese dogs: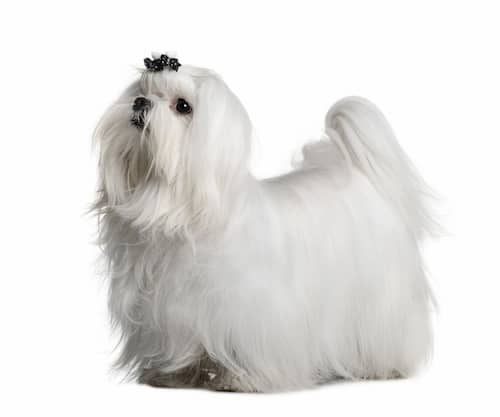 Kopuk
Mostacho
Tobler
Panda
Rattle
Syree
Jordan
Nico
Kimball
Sophia
Sparkman
Rabi
Tintin
Roxie
Pinky
Pipo
Porche
Brinkly
Dodis
Morpheus
Tarzy
Rank
Hades
Yuri
Kumo
Declán
Rexie
Caliph
Syros
Sally
Donald
Mogwai
Crispy
Dusha
Dûsa
Taz
Cloe
Knut
Sosis
Luck
Nunu
Elvis
Trosky
Keeva
Kuka
Neiron
Gino
Coco
Wurst
Inka
Tomey
Tango
Eliana
Kevin
Nutella
Snow flake
Bamboo
Naughty
Oriya
Stanley
Rocket
Moon
Henko
Tommy
Nunu
Snuggles
Kalina
Karim
Bruno
Tinker Bell
Disco
Sprite
Niall
Mandi
Scout
Ímar
Sheru
Ursula
Bongo
Froot loops
Odette
Chelsea
Rosie
Cusco
Kovu
Nut
Randy
Dribble
Celine
Raphael
Rufous
Axel
Linx
Chanel
Margo
Skullbo
Punk
Trunk
Bingo
Krauss
Laa-laa
Zaira
Splash
Tuffy
Nuk
Eluney
Vera
Duchess
Kimmy
Kelly
Crocotta
Suri
Dudley
Patty
Figgis
Kin
Saoirse
Kaju
Lyanna
Groucho
Irina
Fringe
Osiris
Caprice
Shagun
Winnie
Smurfette
Layla
Mia
Apollo
Scooby
Heinz
Spikey
Felix
Binky
Monkey
Moy
Zola
Quill
Jack-o'-lantern
Tiger
Cece
Willie
Julie
Ripjaw
Marco
Spot
Rogue
Midas
Berry
Goran
Dana
Kid
Oni
Hyron
Keira
Trust
Kenzō
Perry
Pellet
Summer
Inuk