Nerdy dog names
You're a real freak and you want your dog to be one too? Then a nerdy name will be perfect for them. We are going to propose you some strange, strange names… and others that come from very freaky subjects or people that are. Let's go with the freaky names for dogs!
Nerdy names for male dogs
These names are for males, but if you want to be very freaky, you can also give them to female dogs without any problem. What difference does it make?
Brian

: continuing with the Monty Pythons, why not call your dog Brian? Brian's Life is a great movie.

Arthur Dent

: as the main character of The Hitchhiker's Guide to the Galaxy.

Monty

: in honour of the Monty Python.

Wopr

: like David Lightman computer in War Games.

Spock

: as the vulcano-human Star Trek officer.

Tron

: like Jeff Bridges' movie. By the way, the protagonist was called Kevin Flynn, also a great name for a dog.

Urkel

: remember Steve Urkel? Well, that…

Mario

: you can link it to any Mario you want, but we would always link it to Mario Bros game.

Sheldon

: the biggest freak on TV in recent years, Sheldon Cooper from Big Bang Theory is a great name for a dog.

Luke

: from Star Wars.

Peter

: like Peter Parker from Spiderman.
Nerdy names for female dogs
Let's go with some very freaky names for female dogs:
Rey

: good name that comes from tagonist of Star Wars: The Force Awakens.

Leia

: like the wonderful princess Leia.

Amy

: another big freak from Big Bang Theory, Amy Farrah Fowler gives you three names so you can name your dog: Amy, Farrah and Fowler, all of them are great.

Kitty

: like the mutant Kitty Pride.

Gor o Gordita

: is your dog a ball?

Dominó

: as one of the members of X-Force.

Hermione

: Harry Potter's smartest magician, can be a great name for female dogs. In the day to day you can call your dog Hermi, to shorten.

MS-DOS

: like the operating system.

Sookie

: as the protagonist of True Blood.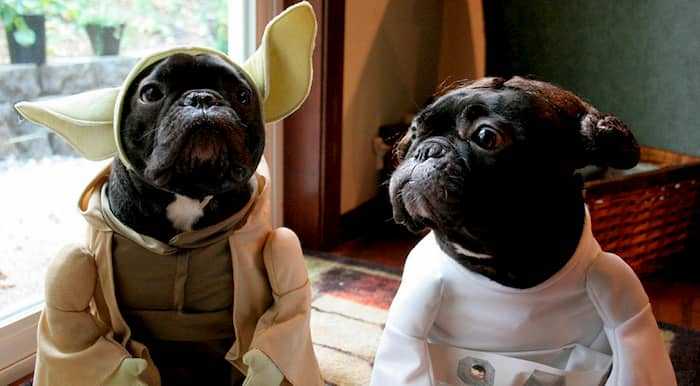 Did you like any of these freaky names? Great! And if you want to keep finding names for your dog, visit our website, you will discover names in other languages, movie names, and in general, a lot of names among which you will love one.