The Rottweiler breed is originally from Germany, specifically developed in the city of Rottweil, hence its name. From the beginning they stand out as excellent working dogs, due to their physical qualities. Adults can reach 55 kilograms in weight, and about 65 centimeters high.
They are black with some patches in fire-golden. They are very muscular, have an impressive physical capacity, so they are considered one of the races with more strength and power.
As far as their character is concerned, they are friendly and affectionate dogs with their owners and close family. They are more distant with strangers, especially if they are not socialized since they are puppies. This is an important point, since Rottweiler dogs have a very strong character, and if they don't socialize enough we'll have problems with other people and animals when they become adults. Another thing to keep in mind is that it's necessary a correct training since they are small, to avoid future bad behaviors.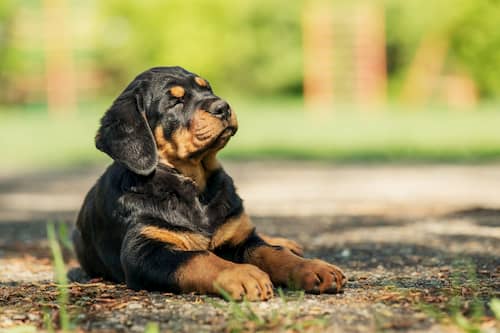 20 German names for your rottweiler
Since it's a German breed, an original option would be to look for a German name for our puppy. Most of you won't know many words in this language, that's why we have gathered some names with their meaning to make your task easier:
Groß : large
Stark : strong
Hübsch : nice
Kaiser : emperor
König : king
Welpe : puppy
Adler : eagle
Königin : queen
Prinzessin : princess
Gut : good