Saint Bernard dog names
So far on our website we have talked a lot about small dogs, but now we pass to a super big one, the saint bernard, which can weigh nothing more and nothing less than 100 kg! However, everything they've got big, they've got good and loving.
Bella
Amber
Jazz
Ava
Toby
Cooper
Simba
Ivar
Boss
Elory
Bimba
Draco
Krypto
Katy
Joker
Honey
Yuki
Azor
Goofy
Eric
Max
Dalí
Maya
Johan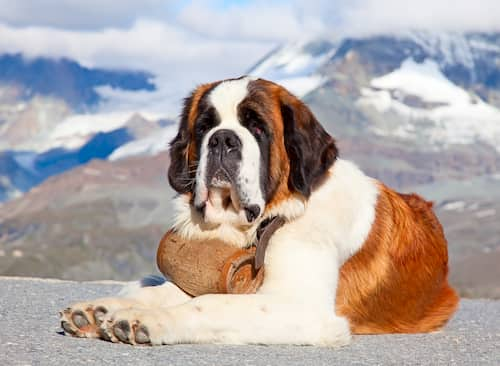 Male Saint Bernard names
They can have different colors but the most common are cinnamon, white, mahogany, black and reddish, which are usually combined i.e. two colors and brindle. It's a breed that usually drools a lot and loses a lot of hair. This can be very uncomfortable for many people, especially if they have to share enclosed spaces of the home with they. Males can reach 90 to 100 kilograms in weight, and about 70 centimeters in height. If your St bernard is male, let's see some names for him:
Samson
Hulk
Adrien
Drogo
Brutus
Broner
Lion
King
Hodor
Beethoven
Gumbo
George
Rocco
Magnum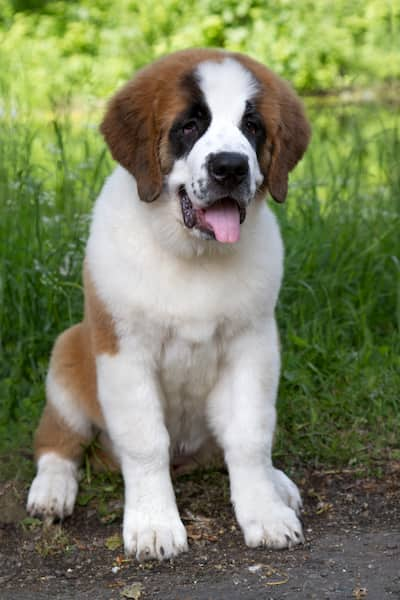 Names for female Saint Bernard dogs
The females of this breed are a pass, have a very good character, are affectionate with the family and have no problem relating to other dogs. They adapt very well and since they are generally calm, they don't need much daily exercise. But you have to be careful not to take a very sedentary day to day as they tend to overweight. It's necessary to force them to do a little exercise with us.
Renata
Amore
Aria
Susan
Leti
Bambi
Reina
Dakota
Moon
Indiana
Brigitte
Daenerys
Fiona
Laika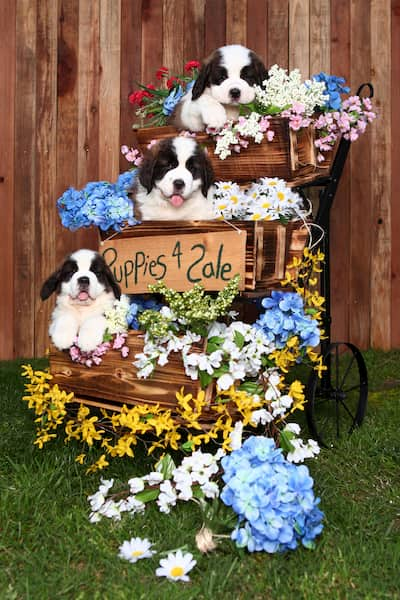 Names for Saint Bernard dogs according to their characteristics
Because it's a giant dog, most names for this breed are usually "strong names" or that convey the size of the dog. Although this is not obligatory, many owners prefer to be fun and choose quite the opposite, a small dog name, and that is to call "Little Ball" to a St. Bernard, sure that doesn't go unnoticed.

It's a breed originating from the Alps, in the beginings its functions were surveillance, due to its developed sense of smell and instinct. It's considered to come from the mixture of breeds such as the Great Dane, Alpine Mastiff and Newfoundland.

Another unmistakable feature is its huge black truffle, which coupled with their ears and huge head, makes it even look like a bear 🙂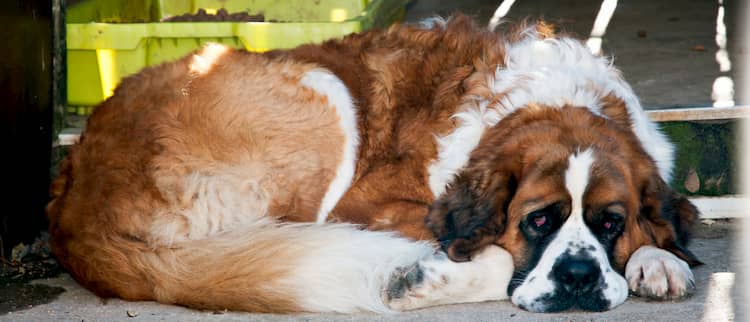 The best names for a St Bernard dog
We have gathered in the following list, the best names for male and female dogs of this breed. I'm sure you'll find one among so many that the whole family likes:
Paug
Topaz
Ray
Ecko
Brut
Borya
Pol
Mara
Atum
Bobo
Atias
Darko
Figo
Mira
Hades
Sage
Deva
Rita
Rania
Kutta
Hugo
Java
Bonnie
Leo
Moussa
Xifu
Sam
Wurst
Kevin
Henko
Muna
Ithaca
Moon
Bruno
Nolan
Dandy
Rakie
Coffee
Bongo
Sansa
Axel
Nut
Noa
Rufous
Margo
Boira
Noah
Dora
Kira
Ares
Larry
Bora Bora
Astro
Taste
Genie
Irina
Akron
Egon
Fara
Heinz
Pumbaa
Cronus
Felix
Zola
Ibra
Kyra
Breeze
Dana
Kid
Kutta
Goran
Guido
Ami
Oni
Neiva
Heiwa
Rocco
Hilda
India
Bubba
Herby
Jake
Ciara
Lupo
Blair
Clint
Lassie
Lana
Harbor
Coke
Hera
Rocky
Zira
Goldy
Greedy
Neil
Igor
Mila
Ayla
Seru
Gaudí
Molly
Scar
Lisa
Dutch
Dante
Malu
Telma
Shea
Juno
Horus
Leia
Lyra
Hemi
Thor
Hulk
Hun
Balzac
Queen
Eddard
Bibliography:
https://www.dogbreedinfo.com/saintbernard.htm