290+ Best Shih tzu dog names
Are you looking for a name for Shih Tzu dogs? You have come to the right place, to make your job easier we have collected some of the best names for male and female dogs. We'll also talk about the main characteristics of the Shih-tzu breed, for those of you who are thinking of having a puppy.
Jazz
Cobi
Ava
Toby
Gagarin
Simba
Dexter
Captain
Zoubia
Chewbacca
Skits
Boss
Mushu
Honey
Priti
Boxy
Beethoven
Hoshi
Mufasa
Azor
Goofy
Kal-El
Beans
Kiara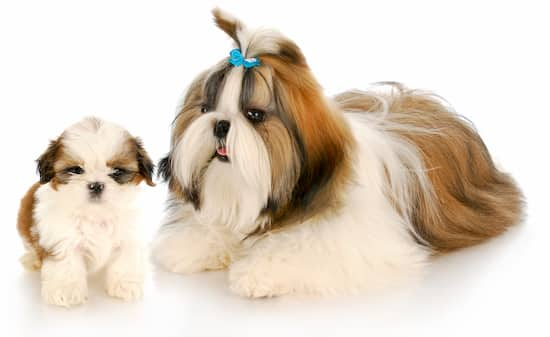 Names for male shih tzu dogs
Shih tzu dogs are characterized by having very good character, they are friendly, obedient, quiet and very sociable dogs. That's why they are very recommendable to live with children, since they are patient and tolerate very good all type of games. They also adapt easily to other animals, because they are nothing territorial, they don't care that new dogs come to their home or territory. If you have a male, we have collected some names that you may like:
Mickey
Cooper
Henry
Lucas
Bruno
Gizmo
Obelix
Bernie
Felix
Theo
Rico
Rudy
Sultan
Eddy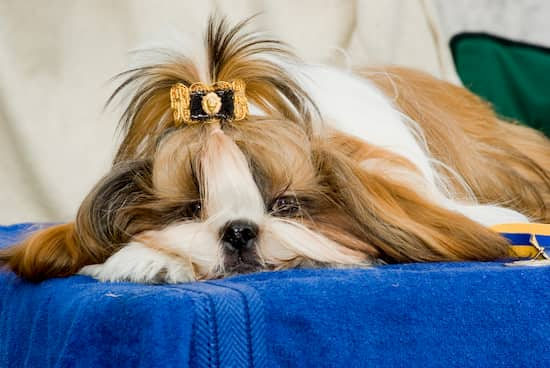 Names for female shih tzu dogs
Shih tzu females have much demeanor and elegance, it's one of the breeds that look better with long hair. It's true that most of us that have dogs of this breed at home we can't keep their hair so long and perfect, because it's an arduous task and must be done daily. It's usually simpler to keep their hair short. If there is a new female Shih tzu at home, it's time to find the perfect name:
Penny
Dakota
Victoria
Sansa
Daisy
Emma
Mia
Sofia
Natasha
Bella
Noelia
Estela
Pimienta
Tina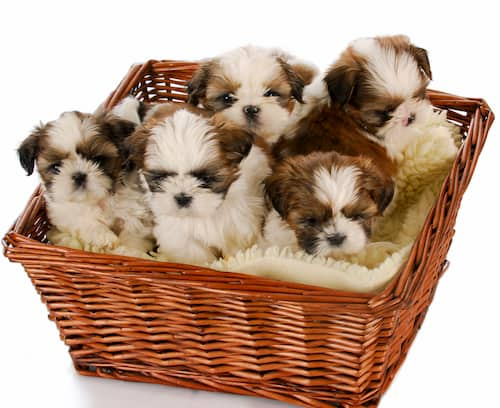 Shih tzu dog names according to their characteristics
Shih tzu dogs are considered small dogs, which as adults can reach between 4 to 9 kilograms in weight. The height does not usually exceed 28-30 centimeters. They are originally from Tibet, it's a breed that was developed around the monasteries of Tibet, being common their participation in religious activities.
They are usually tri-colored, the most common colors are: white, gold, brown, black.

They have a long and silky hair, it's advisable to carry out a brushing of habitual form to avoid knots.

They have a very flat nose, this is one of their main characteristics. Therefore, they have a strong breathing, especially when they exercise or are nervous. It's funny to see them asleep, because they seem to snore.

Their body is compact, so although they may weigh 7 or 8 kilos, they look smaller.
Here is a list of the most popular names for Shih tzu dogs: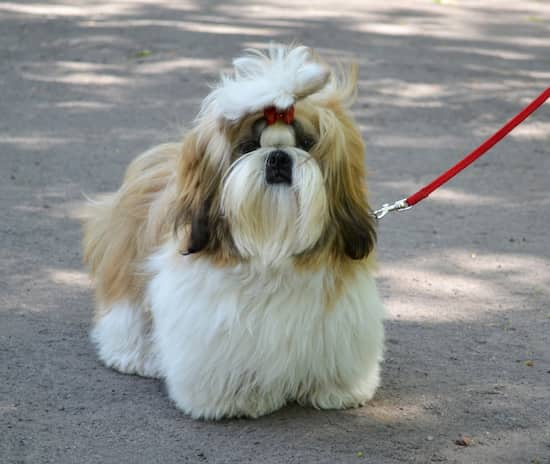 Scott
Tobler
Prince
Choca
Kimball
Sophia
Borya
Porche
Pol
Paxe
Arthur
Keisy
Mira
Spunky
Shark
Sage
Jaysie
Mateo
Rania
Troya
Elur
Hugo
Gift
Dusha
Daedalus
Leo
Robin
Suyay
Raja
Maxamillion
Teen top
Riley
Eliana
Tara
Snow flake
Bamboo
Harwin
Hannibal
Dunham
Ithaca
Luna
Diamond
Frank
Satō
Nunu
Jewlz
Caspar
Donu
Nolan
Tudor
Hilde
Cruise
Wooyed
Angus
Wilma
Jana
Jamice
Tyson
Frigg
Odette
Jack
Sansa
Cusco
Rober
Malik
Ameko
Valkyrie
Noa
Hoof
Newton
Joli
Noah
Mitzy
Boira
Margo
Skullbo
Remmy
Sassy
Iris
Kimmy
Adel
Kira
Laa-laa
Dora
Ciaran
Nuk
Eluney
Tuffy
Janin
Patty
Astro
Lyanna
Sydney
Kecha
Madhu
Winnie
Tikku
Akron
Genie
Heinz
Viola
Mia
Layla
Scooby
Xara
Marcia
Makad
Joanny
Pumbaa
Geppetto
Ibra
Kinley
Pipe
Godøy
Indira
Otto
Madison
Cece
Breeze
Minnie
Marco
Rudy
Camel
Hercules
Rogue
Kutta
Lincoln
Goran
Murdock
Guido
Ami
Neiva
Heiwa
Shahbanu
Timba
Phoebe
Hilda
zishan
Uma
Vicky
Milos
Anahi
Lassie
Conor
Sabrina
Momo
Buddie
Sammy
Harbor
Clint
Rafiki
Goldy
Beula
Dixie
Cody
Zira
Pucca
Austin
Snickers
Igor
Kayser
Howler