Spotted dog names
Does your puppy have other colored spots on its coat? Do you want a funny name that relates to its appearance? Well, here you'll find great names for dogs with spots, whether they're male or female. You have just come to the best place to find the perfect name for your dog.
Names for Spotted Female Dogs
If your dog has spots, whether a chihuahua, pitbull or any other breed, you are going to like these names very much.
Vache

: means cow in French.

Daryl

: this is the character from the Kill Bill movie who has an eye patch. If your dog has a little spot on its eye, this can be a good name.

Crater

: do its spots remind you of the craters of the moon? Well, this name can be great. It's also a good name for male dogs.

Stain

: another word for spot in English.

Tigris

: if your dog has tabby fur this name is ideal.

Lunar

: means polka dot in Spanish. Does its coat remind you of the typical skirts of polka dots? Well, this can be a great and fun name.
Names for Spotted Male Dogs
Here are some names for a male dog with spots that you're going to love.
Lazy

: Many people as children put a patch on their eye because they have the "lazy eye". If your puppy has the spot on either eye, this name can be a lot of fun.

Chaplin

: if your dog is black and white, you can relate it with the name of the famous silent film actor Charly Chaplin.

Patch

: for puppies that have a spot around the eye.

Gruyère

: this is the classic Swiss cheese with holes

Tablao

: : in reference to flamenco tablaos in which artists wear polka-dotted dresses.

Pío

: this is the name given to horses whose coat has white spots.

Cow

: if your dog's coat reminds you of a cow's coat, this name can be very good.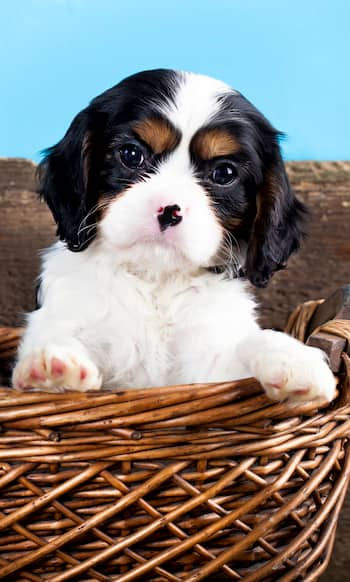 Would you like to discover more names for spotted dogs? Well, look at all the options we have on our website. Surely among so many possibilities you will find the ideal one to name your dog.