Strong dog names
Your dog is a large Pitbull, German Shepherd or Rottweiler and you want to find an imposing and strong name for them? then you are in the right place! We're going to propose a lot of strong dog names, so that the moment you call them everyone will identify that you're referring to a big, strong dog.
Thelma
Zakky
Bella
Jazz
Amber
Ava
Toby
Cinnamon
Gaston
Melva
Cooper
Gagarin
Alan
Gilda
Ozzy
Ivar
Zoubia
Katy
Bunner
Captain
Amy Farrah Fowler
Gaul
Chocolate
Adonis
Woody
Boss
Farter
Simba
Dexter
Elory
Mushu
Bosch
Misha
Chewbacca
Brigid
Yuki
Candace
Staffy
Akira
Goofy
Azor
Honey
Beethoven
Mufasa
Gizmo
Draco
Medusa
Joker
Kiara
Kal-El
Alaskin
Tarzan
Bimba
Maya
Max
Han Solo
Bamm-Bamm
Bond
Brandy
Candle
Aston
Krypto
Benny
Joey
Khaleesi
Noel
Lambo
Dagda
Helen
Hydra
Layon
Dalí
Whoopi
Eclipse
Storm
Merlin
Aeolus
Katrina
Terry
Ben
Davor
Pappy
Buffy
Marvel
The best rough names for your dog
Rough is the opposite to delicate. If you're looking for a rough name is because you want it to have power, a lot of strength. Look at some rough and strong names for dogs:
Anise

: good name for female dogs, strong and easy to remember for the whole family.

Croft

: a great name for a female dog that will remind you of the main character of video games Lara Croft. If your dog is fast and strong, You got it! .

Jack

: it's a short name, but it has a lot of resonance. A lot of people throughout history have been called Jack. For example, the musician Jack White, the creator of the wiski Jack Daniels or Jack the Ripper.

Kabul

: a very strong name, which sounds very good and reminds us of the Afghan city. This name can go great with any breed of large dogs, for both female and male.
Impressive names for male and female dogs
Your dog is impressive and you want a name that does honor. Are you thinking about the options you can think of, but there is no original? Well, don't worry because here are some ideas for strong, impressive names for dogs:
Mozart

: Is your dog's barking music to your ears? Well, Mozart will do great (and if they're noise, it'll also be a rare good name in an ironic way).

Ridley

: also a good choice for both male and female dogs, Ridley can be a tribute to the film director Ridley Scott who created Alien, Blade and Gladiator.  

Howard

: it has a good sound and you can put it in homage to a lot of famous people among others the basketball player Dwight Howard, Howard from the Big Bang Theory sitcom or Howard Stark from Marvel comics.

Tudor

: It's a good name reminiscent of the Tudor House that ruled England from 1485 to 1603. Among other prominent leaders we find Henry VIII (who married six times).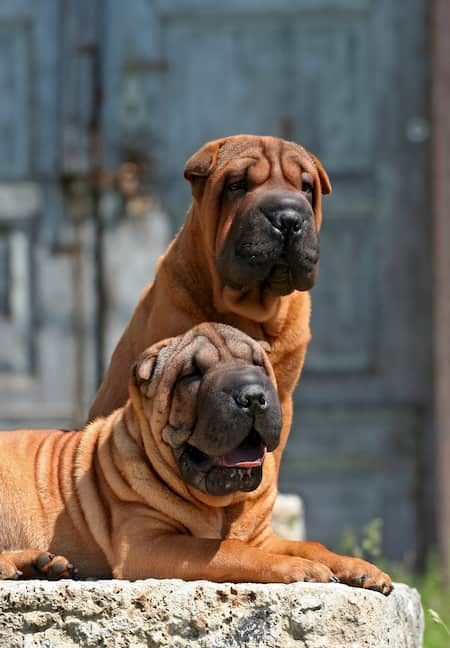 Scott
Tobler
Porche
Prince
Paxe
Spunky
Sophia
Diamond
Kimball
Jaysie
Arthur
Choca
Keisy
Mira
Suyay
Daedalus
Borya
Sage
Snow flake
Troya
Tudor
Bamboo
Laa-laa
Skullbo
Wilma
Noah
Dusha
Dunham
Tara
Elur
Jewlz
Jamice
Cusco
Frank
Robin
Madison
Mateo
Sassy
Hannibal
Nunu
Riley
Hilde
Cruise
Beula
Shark
Margo
Luna
Mitzy
Rania
Wooyed
Angus
Pol
Odette
Leo
Rudy
Ithaca
Tuffy
Hugo
Teen top
Tikku
Maxamillion
Harwin
Nérac
Sansa
Satō
Lincoln
Akron
Kutta
Nuk
Pumbaa
Madhu
Rogue
Eluney
Otto
Gift
Marcia
Geppetto
Joli
Remmy
Kimmy
Layla
Kecha
Newton
Kira
Want to see more ideas for strong dog names? Have a look at our list of strong and powerful names for dogs - you're sure to like some of them!